Genres: Arcade
|
Platform: iOS (Apple iPad Only)
US release date: Dec 7th, 2011
|
Price: $1.99
R-Bot VS. is homage to the early arcade game days when Pac-Man and Donkey Kong ruled the video game world.
In this arcade style platformer, players race through 24 levels, collecting power spheres and trying to get to the exit portal before their opponent does! R-Bot VS. brings the old tabletop arcade games feel to your iPad and combines a classic arcade feel with some modern day looking graphics.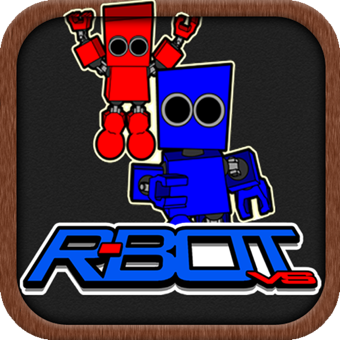 Gameplay
The object is for 2 players (on one iPad) to race to collect 25 power spheres and exit through the portal before their opponent does.
Pretty simple, but the game get harder as you progress with the addition of moving and stationary death objects.
Development
R-Bot VS is the 2nd released game, but actually the 3rd game to go into development at Medaverse Studio.
Production on R-Bot VS started in Late 2010. After dealing with the blow that we would not be see any revenue from our first game Gravitronix, We had decided to work on something simple that we could get released within a year, as we figured out our strategist for our next major release.
The idea was to do a simple Arcade style game, something simple like Donkey Kong or Pac-Man were we could re-use the same level multiple times but just increase the difficulty of each level. We also decided to release free map packs ever couple months to keep the game fresh.
R-Bot VS sold over 3,200 copies within the first 4 months before fading to the background among the sea of other iOS games hitting the market. We released 3 map packs raising the total level in the game from 24 to 42. By October 2012 the full game (and free demo) were no longer being downloaded so in Dec 2012 we did not renew out Apple Developer Licence and the game was pulled from the Apple App store.